As I was doing my daily
R29
reading something caught my eye, African inspired jewelry. Of course there already is plethora of African inspired jewelry floating around in the world of fashion, but these piece were something different, beautiful and unique.
When you think of words like glass, bone, or brass, you don't usually think of jewelry right? Well thanks to
KORA
, that will soon change my friend. This line of jewelry combines those elements with aluminum, hone and recycled materials to make gorgeous bangles, bracelets, rings and necklaces. This is the perfect spring line to look into for accessories.
While the prices go no lower than 3 digits, I believe the cost is well within reason considering the unique materials used.
I completely and totally recommend you to at least check out the site...I promise you will fall in love!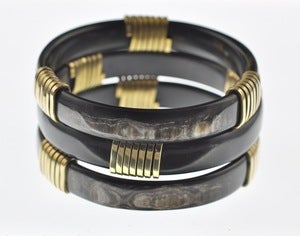 Enjoy beauties!!
Love,
Robin